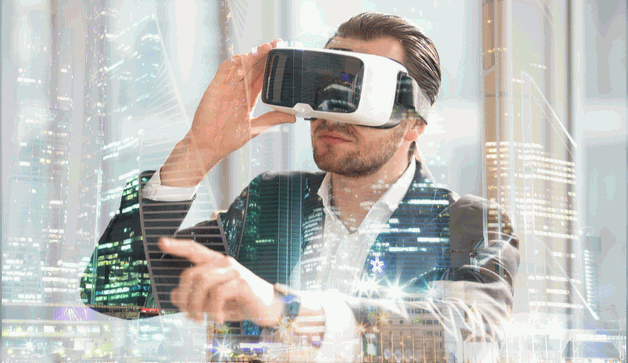 The benefits of VR in real estate are just starting to take shape in the industry. VR, or virtual reality, is a new technology that allows clients to "experience" a site using a headset and controller. VR technology has been sweeping other industries and it's no surprise that real estate is one of them. With any emerging technology, it can be consuming to newcomers to figure out the best way to implement it in their current business.
How is Virtual Reality Transforming Real Estate?
Look at these 6 ways VR is transforming real estate to get an idea of how it is changing the industry.
#Accessibility
One of the biggest challenges for realtors has always been getting prospective clients on site. This is especially true for high-end sales where the client may be looking at a wide range of properties across a large geographic area. VR drops these barriers and allows a real estate agent to take their clients on tours of any of their properties all from the comfort of a central office.
#Under Construction
Showing properties that are still being finished has always been an uphill battle. Taking a client to an active construction site and asking them to imagine a finished wall or how nice their sectional would look next to a stack of drywall has been the thorn in the side of many a realtor. With VR technology, you can cut out this guesswork and clients can visualize a completed space even if it isn't finished the real world.
#Overhead
There is a lot of overhead that VR can trim in the real estate business. Driving to sites, shuffling clients around, scheduling with construction teams, and staging costs can all be lowered with the smart use of VR. This is especially true for staging costs.
#Staging
Staging and the real estate industry have gone hand in hand for generations now. Traditionally, realtors would contract out to interior designers to decorate an empty site in order to make it look more attractive to potential buyers. VR technology allows the real estate industry to change its relationship with interior design. Rather than going through the costly process of transporting furniture to and decorating an empty site, you can now "virtually" decorate a space. Real estate VR software often comes with the ability to add basic furniture and decorations into space and higher-end VR software allows you to still work with an interior designer and create virtual decorations specific to each site.
#Connecting with Clients
Virtual reality in real estate allows realtors to create an emotional connection between their clients and the sites they are selling. Rather than showing your client a 2D picture of a site, you can now allow them to virtually tour it before they go to an onsite visit. This allows them to feel like they have already been there and connect with space.
#Sales
Real estate is an industry just like any other and the bottom line is still important. With virtual reality in commercial real estate, new methods of connecting with clients open. Including the options above, you can now innovate in ways that were impossible before like setting up a VR real estate kiosk in a mall or using AR / VR in real estate to have clients virtually redecorate to see if they can make a site work for their needs. VR is a new tool in the real estate industry's toolkit and its potential is just opening.
VR is set to have a massive impact on the real estate industry. More so than others, it has the potential here to reshape how this industry has been handled for generations. VR is already changing everything from how clients experience sites, traditional real estate business models, and innovating new ways to reach clients. If this article has piqued your interest, look at the basics of how to get started with VR / AR technology.